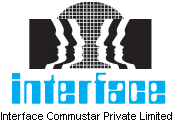 About us :


We are in the business of comprehensive publicity and outdoor advertising solutions since 1985. Interface has kept pace with changing technological environment and always been among the first to give the benefit of innovative and cost effective solutions to its clients.

In the years of its progress Interface Commustar has had the privilege of associating with leading Indian and multinational corporations in both consumer and core sectors. Our services include complete signage solutions at points of sale, promotional events and industrial applications.

We have the latest in-house technology, equipment and financial resources with experienced & qualified workforce, to design and execute projects of any magnitude.

Our valued list of highly quality conscious clients includes, United Breweries Ltd, United Spirits Ltd, Britannia, Eveready, Castrol, Herbertsons, JK Tyres, Coca-Cola, Hindustan Aeronautics Limited, TATA, IBM, Telco, TATA Elxsi, Indian Oil, TNT, ALIT, Lucent Technologies, Netpoint, Music World, Sony Music and Wockhardt, to name a few.

New and Events

Quick Quote